Posted on
By Ellen Barton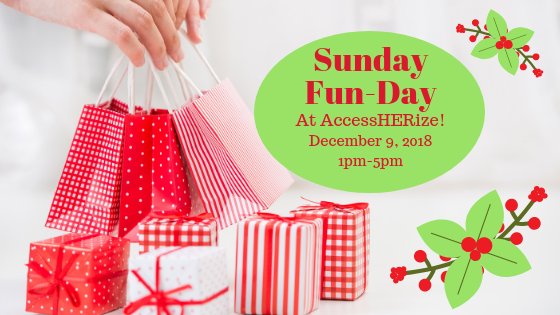 Join us for another FUN DAY of shopping!
You won't want to miss this rare opportunity to shop at AccessHERize on a Sunday afternoon!
Stop and shop between 1 and 5 on December 9th at our retail store in Lexington.
Go here to RSVP on our Facebook Events page!
Wrap up your Christmas shopping, snag some AMAZING One-Day-Only Deals, and hang out with us (yes, we will have Hallmark movies on our TV)!
Here are some of the perks:
FREE GIFT with a purchase of $50 or more!
50 BONUS Rewards Points for Club Members
ONE DAY SALE on your favorite products!
Lots and lots of Christmas Cheer :)
If you are not a member of our AccessHERize Rewards Club, you may join anytime...it's absolutely FREE!
Go here for more information!
Make the holidays HAPPY, shop AccessHERize!